Gene therapy
Interview with Sushmita Poddar, Avecris
Sushmita Poddar, lead of Avecris' research direction, among others, has dedicated her scientific life to gene therapy and gene editing. With Avecris, she is in good company at the Life Science Incubator.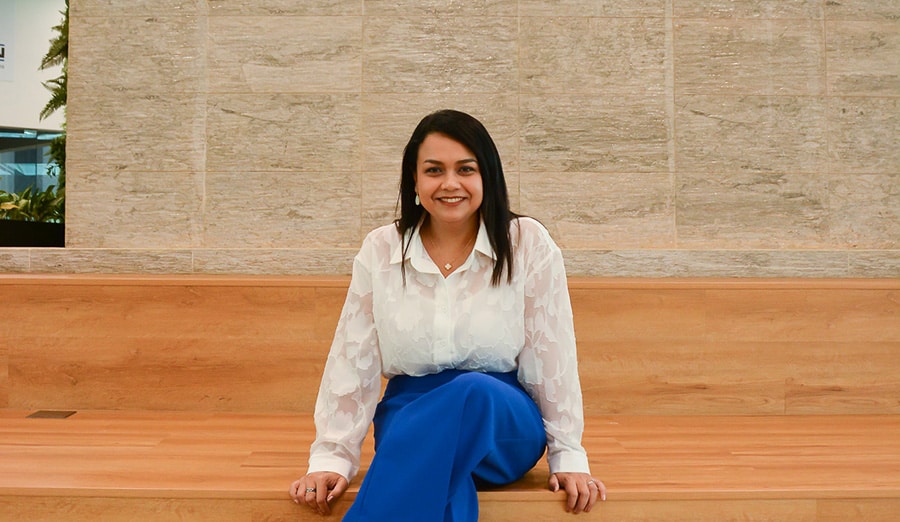 Sushmita is a scientist in the field of gene therapy and gene editing, who has been working in academia and the industry for more than a decade now. At Avecris, she is responsible for the development of current pipelines, management of collaborations and to lead the company's research direction. Another interview from our #peopleinournetwork series.
Dear Sushmita, why did you decide for German Centre Singapore and LSI (Life Science Incubator) as location for Avecris?
Avecris is a young company that is looking to create a dynamic community where its staff can make fast progress on its pipeline of programs. Life Science Incubator is like WeWork for Labs. It is a co-working lab for medical technology and an integrated space for science. LSI provides Avecris with the resources we need to support our daily lab activities so that we can bring our technology from lab to bench to clinic as quickly as possible.
We are very happy with our situation at the German Centre – besides housing LSI, where we conduct all our lab activities, it also provides us with spaces and meeting rooms for working and conducting business. Avecris employees work full time in the German Centre, as it offers first class services, a great community, and is very accommodating. We are very happy to be part of the German Centre community.
What inspires you most about the German Centre idea?
The German Centre is a great platform for (German) companies to enter markets in APAC, and I am glad that the Singapore branch is the pilot. The German Centre is my "work home", and I enjoy coming here every day, as I like being part of the community here and I enjoy the spirit of collaboration very much.
What can Germans learn from Singaporeans and vice versa?
Since I have lived and worked in both countries, I have some ideas. Singapore and Germany are both great countries and are well respected globally for similar reasons: A quality-first mindset, great infrastructure, outstanding educational institutions, a mindset focused on innovations, a solid economy and multi-culturalism (people often underestimate how culturally diverse Germany is in many regions).
I see more commonalities between both nations than differences. One thing I am missing in Singapore is German bread (did you know that Germany has 300 different types of bread?), especially the Pumpernickel (black bread) and Sonnenblumenbrot (sunflower seeds bread): Maybe this is one thing Singapore could learn from Germany! On a more serious note, regarding what Germany can learn from Singapore: Germany is currently struggling with the digitization of its public services. Singapore is a world-leader in digital public services, and this is something Germany could learn more about from Singapore for sure.
About Sushmita Poddar
Sushmita is a scientist in the field of gene therapy and gene editing, who has been working in academia and industry for more than a decade now. Originally from India, Sushmita moved to Singapore in the 2010s and received her PhD from National University of Singapore (NUS), where she developed a novel universal DNA-based vector for gene therapy using RNA trans-splicing for precision gene expression. For about four years, she researched on non-viral ways to deliver genes that can be tailored with a safety on/off switch into specific human cells and tissues.
This laid the groundwork for what Avecris is doing today. In between completing her PhD and commencing her activities for Avecris, which she sometimes refers to as "full-circle", she worked on other gene therapy avenues in Germany and Switzerland. Among others, she was a research fellow at ETH Zurich and the Medical Center – University of Freiburg, Germany, where she met her future husband, a German native. Later, when she was working with a Swiss gene therapy biotech startup, the co-founders of Avecris and her former PhD supervisor approached and persuaded her to move back to Singapore to help get Avecris operational. And that is exactly what she did in July of 2022.
At Avecris, she is responsible for the development of current pipelines, management of collaborations and to lead the company's research direction. Everyone who works in a start-up company knows how challenging it can be, but she enjoys every minute of it: "I love the freedom that Avecris and my role are offering while we are developing the technology platform. I am very blessed to have such an amazing management and R&D team". She is a firm believer that a company's most important assets are its people, and "Avecris, for sure, has a special group of people, and it is a privilege to work with them. Moreover we are all extremely motivated and excited about developing a technology that has the chance of changing the trajectory of medicine".
What's your favourite place in Singapore?
I came to Singapore for the first time more than ten years ago my favorite spot back then (and still today) was the Board Walk connecting Sentosa during sunset. There used to be a cute wine bar. The warm air, great company of friends and a nice bottle of white wine would always make me happy. Even though that wine bar doesn't exist anymore, and I hardly have time to spare, I still like to go for long walks at dusk, preferably on Sentosa.
Is there anything you would like to address directly to our readers and followers?
We are so fortunate at this stage of our company to have developed three exciting collaborations. One is with the U.S. government to develop our gene technology for use in genetic vaccination. The second is a collaboration with the Cystic Fibrosis Foundation to develop a genetic therapy treatment for CF. And the third is a collaboration with a large global pharma for a gene therapy program.
If anyone from the pharma industry would like to learn more about Avecris and what we are doing, please swing by or connect with me on LinkedIn. I am always happy to connect and talk more about Avecris, but I am also curious about other companies and what they are doing.
About Avecris
Avecris is an early-stage life science platform technology company developing a new way to deliver gene therapy and genetic vaccination that does not use viruses, plasmids or mRNA. They have developed a cost-effective non-viral delivery system that is capable of long-lasting expression, is redosable and can express only in cells of interest. The company is located at the Life Science Incubator, a co-working lab for medical technologies and more,  in German Centre Singapore.
Similar articles
Meet more people in our network
The Head of Trade Finance for Bavaria, Saxony and South/East Wuerttemberg spoke to us about current trends among German companies abroad.