Camexa
Interview with Johannes Hauser, AHK Mexiko
The Managing Director of AHK Mexico (Camexa) explains how AHK and German Centre support German companies on site.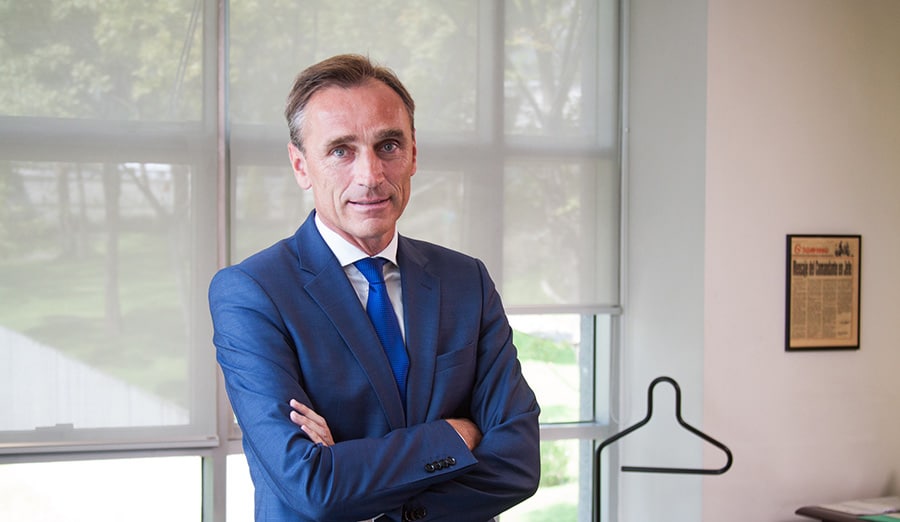 Johannes Hauser has been Managing Director of AHK Mexico for almost 20 years. We spoke with the family man about his fascination for the country, the cooperation with the German Centre and opportunities for German companies. An interview from the #peopleinournetwork series.
Johannes Hauser, what fascinates you most in your current job at CAMEXA?
Above all, I really like the wealth of variants in my job. Every workday is different, not even similar to the other days. There are so many different tasks to do. At first, I am in touch with manifold companies from all different industries. Furthermore, Mexico itself is such a diverse and multifaceted country. My job allows me to come to the office highly motivated every morning and, furthermore, to learn something new every single day. That's what fascinates me in my job!
CAMEXA has been located in the German Centre Mexico since 2003. What do you appreciate most?
Everything works properly at the German Centre. This might be an unpretentious fact, indeed, but it allows us to fully concentrate on our tasks. Here in the German Centre, we are very close to our members and in the midst of the German business community in Mexico. German Centre and CAMEXA basically have the same focus: Supporting especially medium-sized German companies in entering and doing business in the Mexican market.
We from CAMEXA provide guidance in the sometimes confusing market. Particularly, we deliver information, answer questions and help in many aspects so that companies can grow. Additionally, the German Centre answers the location question and is, so to say, the home away from home for German companies.
What do Mexicans and Germans have in common – and in which field are they totally different?
It is a clichée – but it is what it is. The love of football and a foaming beer undoubtedly unite Mexicans and Germans and are always good topics for small talk. On the contrary, a big different is their approach to work: Germans are very structured, conceputal and organized whereas Mexicans are way more spontaneous, creative and intuitive. It is a challenge to pool these characteristics, but, as a matter of fact, many German companies proove that it works and are very successful in the market.
About Johannes Hauser
Johannes Hauser has been firmly anchored in the DIHK organization since his studies at the University of Applied Sciences for Technology and Economics in Reutlingen. He has been with CAMEXA in Mexico since 1993. Between then and now, he shortly stopped over at the German-Regional Chamber of Commerce and Industry for Central America and the Caribbean in Guatemala City. Thereupon, in 2004, he became Managing Director of CAMEXA. Today, he supports German company with his team of 35 people in Mexico.
An important focus of his work is the qualification of employees for manufacturing companies. For this purpose, he adopted the idea of dual training from Germany and thus closes an important gap in the education system. The father of three cordially invites everyone to get to know the country and share his fascination.
Why should a German company reach out for the Mexican market?
Mexico has about 130 million inhabitants. It is the 11th largest country of the world and ranks 15 of the worlds largest economies. All things considered, it would be presumptuous not to have a closer look into the opportunities. Additionally, Mexico has many Free Trade Agreements. This allows customs-free access to huge markets, including the European Union, the United States and Canada. The United States are the largest single market in the world and the geographic proximity to Mexico is a significant advantage to export from Mexico.
What is your favourite workplace tradition at the German Centre?
That us undeniably the public viewing at the German Centre. Every four years, during the Football World Championships, the public viewing is an adventure of epic proportions for all football fans. A few hundered residents as well as their families and friends celebrate a great party at the German Centre. In the meantime, the German Centre has become well-known for this very special event. I heard that it will take place in November again, when the championships take place in Qatar. We are prepared!
Thank you, Johannes Hauser!
About Camexa
The Chamber of Commerce Abroad (AHK) Mexico has been active in Mexico since 1929, where it is known by the abbreviated form of its Spanish name (Cámara Mexicano-Alemana de Comercio e Industria): CAMEXA. The chamber fulfills three functions: It is a membership organization, a service provider and a representative of the interests of German business in Mexico.
Similar articles
Meet more people in our network!
An interview with Nirojan Chandran, who did his dual studies program with a practical component at LBBW and the German Centres.
We spoke to the General Manager of Viessmann Singapore about intercultural cooperation and a successful growth strategy.