About us
We match. You grow.
Throughout the world, we are committed to providing companies with a secure platform as they expand abroad. The German Centres are multi-functional office buildings that provide space and facilities for a wide range of companies to set up and develop their overseas operations, present their products and services, meet their customers and hold conferences, training sessions and events. Together with the German Centre team, institutions such as AHKs, associations and service providers, an ecosystem is created in which companies find everything they need to grow.
Values
What German Centres Worldwide stands for
The story behind it
Creating something new together
Asia-Pacific Conferences of German Business
The dialogue on economic developments in Southeast Asia at the Asia-Pacific Conferences in the 1990s included the question of how to make it easier for German companies to gain a foothold in difficult but exciting markets. With great foresight and vision, companies from Baden-Württemberg, in particular Prof. Berthold Leibinger, managing partner of Trumpf GmbH&Co. KG, developed the concept of German Centres in cooperation with Baden-Württemberg's politicians and SüdwestLB, a predecessor institution of today's LBBW.
Foundation of the German Centre for Industry and Trade GmbH
The starting signal for the realisation of the German Centres was the foundation of the German Centre for Industry and Trade GmbH headquartered in Stuttgart.
Opening of the German Centre Singapore
The South-East Asian tiger economies set out to take off. The business-friendly and politically stable city state of Singapore is a hub in the region from which German companies tap into the surrounding markets. In the pilot project German Centre Singapore, companies find the perfect place and mentor to set up their local unit, present their products and benefit from the experience and exchange in the German Centre business community.
Opening of German Centre Shanghai
In the late 1970s, China's economic rise onto the global world stage begins. The world's most populous country that time becomes attractive to international companies for production, sales and purchasing. Companies from Germany now have an contact point in China's important business metropolis Shanghai.
Opening of German Centre Beijing
In the political centre of China, German Centre Beijing is a location for companies from various sectors, institutions such as the Chamber of Commerce Abroad, associations such as the BDI and research and science institutions such as Fraunhofer. Located on the Third Ring Road, it is easily accessible and in the middle of the "German Corner" with the nearby embassy and other institutions of the German community.
Opening of German Centre Mexico
Mexico's attractiveness as a production and sales location is strongly influenced by the large number of free trade agreements, especially NAFTA, the predecessor agreement of today's UMSCA, which sustainably simplifies trade between Mexico, the USA and Canada. Automotive suppliers, plant and machinery manufacturers, but also companies from future-oriented sectors such as life sciences, environment and sustainability or medical technology have chosen the German Centre as a partner for market entry.
Opening of German Centre Taicang
Tier2 and Tier3 cities away from the large metropolises of Shanghai and Beijing are attractive locations for setting up production facilities. German Centre Taicang hosts many service companies such as logisticians, lawyers, HR and tax consultants that German companies need at the location.
Expansion of German Centre Beijing
To provide space for more German companies, the German Centre expands its office space and conference facilities and establishes a second location in the DRC Liangmaqiao Diplomatic Office Building, just a ten-minute walk from its location in the Landmark Towers.
Cooperation with the German Business Incubator Vietnam
Through the cooperation of the German Centres with the German Business Incubator Ho Chi Minh City, a project of AHK Vietnam, the German Centres Worldwide network expands its contact points for German companies in Vietnam.
German Centre Beijing moves together in one building
The clients and community of German Centre Beijing are growing together – and gathering in the much newer and higher quality DRC Liangmaqiao Diplomatic Office Building, where space has been expanded.
Opening of the Life Science Incubator in the German Centre Singapore.
Collaboration, networking and exchange play an increasingly important role in enabling companies to succeed abroad. Together with Waldner Laboreinrichtungen, German Centre Singapore has set up a platform where companies from the medical technology, biotechnology and food technology sectors can exhibit their products in a fully functional laboratory, test them in live operation and adapt them. Users and testers of this growing "Life Science Incubator" ecosystem are also start-ups that research and develop innovative and sustainable solutions here.
Federal President Frank-Walter Steinmeier visits German Centre Singapore
During a delegation trip to Southeast Asia, Federal President Frank-Walter Steinmeier visited the Life Science Incubator at German Centre Singapore. He is impressed by the innovative facility where around 30 German companies have created a universe for science and share not only their products, but also their know-how, expertise and experience.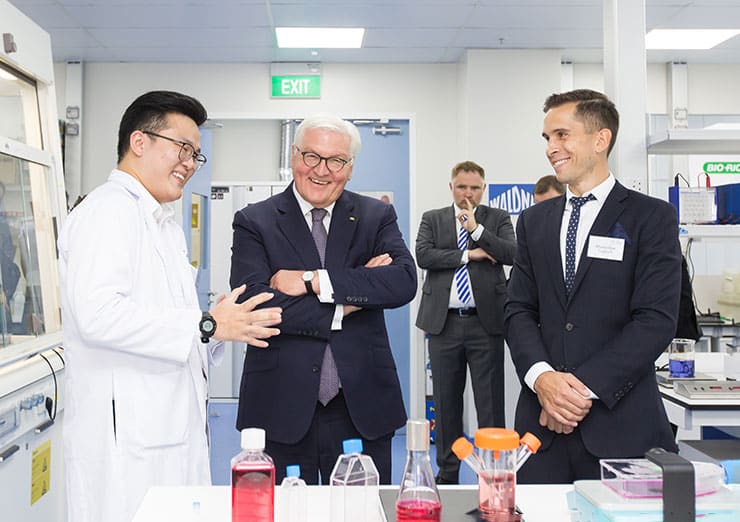 Owned by LBBW and BayernLB, supported by ministries and associations
LBBW and BayernLB accompany their corporate customers worldwide. They solve the financial side of internationalisation. With the German Centres, they also have an answer to the strategic entrepreneurial question of foreign expansion.
The German Centres are supported by federal and state ministries, chambers of industry and commerce, industry associations as well as the Sparkassen-Finanzgruppe and other foreign trade promotion institutions. With this expertise, they are not just one advisor among many, but a credible and reliable partner who knows what matters to internationally engaged companies.
LBBW Group owns the German Centres in Beijing, Mexico and Singapore as well as the German Centre GmbH as the owner of the brand and designer of the strategy. BayernLB maintains the German Centres in Shanghai and Taicang. The German Centres also cooperate with the German Business Incubator Vietnam.
German Centres are supported by federal and state ministries, chambers of industry and commerce, industry associations as well as the Sparkassen-Finanzgruppe and other foreign trade promotion institutions. In their host countries, they are held in high esteem for the economic exchange between Germany and the respective countries.
Sustainability
Economic, environmental and social responsibility
Our activities are designed to create economic, environmental and social value. We are successful when we are relevant to our customers, partners and employees over the long term.
We pursue a sustainable investment strategy in our German Centre buildings. Wherever it makes sense, we prioritise resource-saving technologies and materials, substitute digital solutions and focus on reusability and recycling. We encourage our own employees to be good stewards of people, the environment and nature, and provide opportunities for our customers to become part of sustainable initiatives.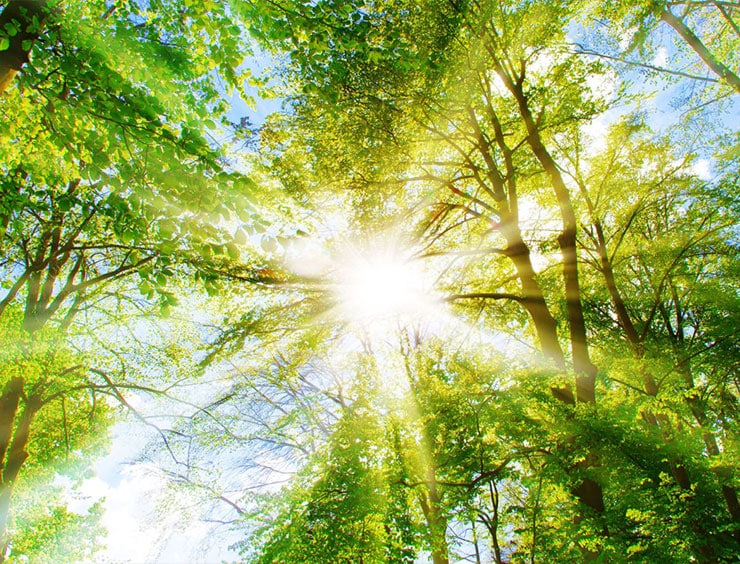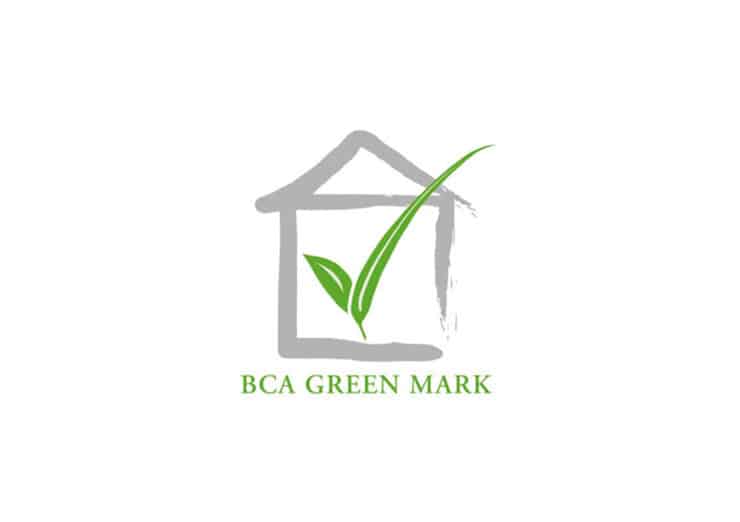 Conserving resources
Excellent energy efficiency
We are constantly working to keep ressource consumption low in our buildings. With advanced air-conditioning systems, LED lighting, motion sensors, intelligent ventilation systems and more, we protect the environment and our customers' budgets. For example, German Centre Singapore regularly receives the BCA Green Mark Platinum Award from the local government.
Respect and intercultural teamwork
A motivated and well-trained team is essential to satisfying our customers. To achieve this, we offer above-average benefits, encourage learning and create an environment where diverse teams can give their best and work together in global workgroups.
In the countries where we are based, we are guests and contribute to society through donations, charity work and a respectful interaction at work and in our free time.
We are committed to continuous improvement. In exchange with our customers, partners and employees at local and global level, we take up impulses and jointly develop the German Centre idea in order to create added value for the economy, the environment and society.