ITAP open stage 2022
AMEC announced at ITAP open stage
German Centre Singapore announces launch of exhibition centre for advanced manufacturing at ITAP open stage.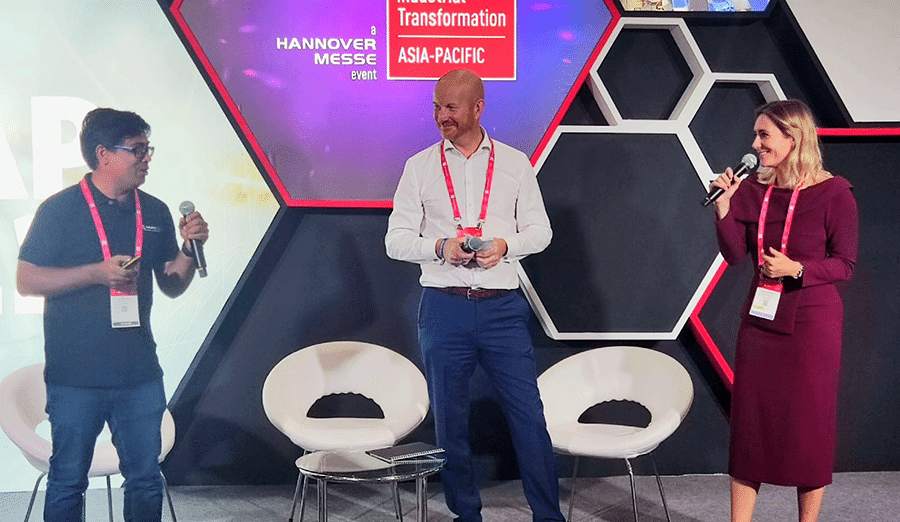 New Exhibition and Experience Centre for Industrie 4.0
Under the motto "German Centre – the place for virtual and physical market entry to ASEAN". This is how Dominique Herold, Managing Director German Centre Singapore,  introduced AMEC, to the audience at ITAP open stage.
AMEC, the Advanced Manufacturing Experience Centre, is a new exhibition centre to be set up at German Centre Singapore. During ITAP (Industrial Transformation Asia-Pacific – a Hannover Messe), Dominique was accompanied by Michael Daniel, CEO Datron AG and Sandeep Sreekumar, Co-Founder IndustryApps, Both companies are participating in AMEC and will soon launch their first exhibits.
A virtual and physical platform for Advanced Manufacturing
The three speakers shared stage in front of a professional advanced manufacturing audience. During their presentations, each introduced their individual contribution to the evolution of advanced manufacturing in the dynamic ASEAN region. With AMEC, German Centre Singapore is offering a platform for Industry 4.0 providers to showcase their solutions both virtually and physically.
Taking factory experience to the virtual world
On top of this, companies can join regular industry-specific events to engage with different kind of business partners. With IndustryApps on board, leading the Virtual Experience Corner of AMEC, advanced manufacturing companies get the opportunity to take their factory experience to the virtual world. With its touch-screen enabled CNC machines, Datron, specialist for machine tool building and automation, is taking energy saving and ease of work to a new level.
Similar articles
More news and events
We are thrilled to extend a warm invitation to you for an exceptional business networking event – the Oktoberfest hosted by German Centre Mexico!
Digitalization is one of the major topics in advanced manufacturing. But how does this translate into added value for OEMs? How can they easily develop and use virtual solutions to their advantage?