Internship
Interview with Moritz Wittmann
Moritz reports about his six-months internship at German Centre Singapore, where he was able to learn about work, country and culture.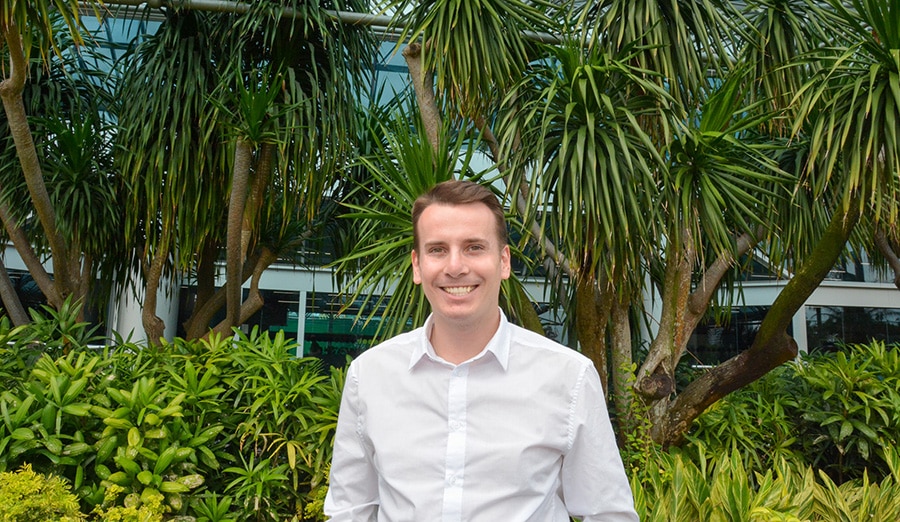 For students, the German Centres Worldwide offer attractive internships They are in the midst of German-speaking companies in emerging markets for a few months and learn about working life and culture here. Read here how Moritz Wittmann experienced his internship at German Centre Singapore. An interview from our #peopleinournetwork series.
Why did you choose German Centre for your internship?
As usual for an internship, I had plenty of different tasks. For example, I published the monthly newsletter, helped organizing events and worked on reports about the business development.
What were your tasks?
As usual for an internship, I had plenty of different tasks. For example, I published the monthly newsletter, helped organizing events and worked on reports about the business development.
What did you like most about working at German Centre?
The freedom and autonomy that I had in completing my tasks. Even though they were clearly defined, I was always able to bring in my own ideas and explore new technologies that had not been used before. The management was incredibly supportive of my approach, and I felt empowered to innovate in my work. This level of trust and encouragement helped me to grow both personally and professionally.
How did you spend your spare time in Singapore?
Although Singapore is only a small island, it offers a tremendous range of activities. During my six months, I've never felt bored, since there is so much to do and to explore. After work I often went out with my colleagues and they showed me their favourite restaurants and spots. Whenever I was seeking a calm weekend, I went to one of the many parks like MacRitchie reservoir or the Botanical Gardens to enjoy some nature and escape the busy city life. Via Facebook, I managed to connect with locals to play football and tennis regularly. Another great thing I loved about Singapore is its location. On long weekends exciting countries like Indonesia, Vietnam or Thailand can be visited easily.
As a student, how did you manage the high costs of living costs of Singapore?
From the very beginning, I was looking for a shared appartement in a so-called "HDB" (this is how public housing is called over here), as they are generally less expensive than the private condos. The German Centre is in Jurong East, which is a bit outside the city. In general, the nearby areas are therefore less expensive. I stayed in Bukit Batok, a district that is very well connected to the German Centre and the city. Moreover, Singapore offers a broad range of budget friendly options. The numerous food courts, the "hawker centres"offer good food at affordable prices across the island. Also, public transportation is cheap and there are a lot of free events happening in the city.
About Moritz Wittmann
Moritz Wittmann studied 'Asian Asian Studies and Management – South and Southeast Asia' at the University of Applied Sciences (HTWG) in Konstanz, Germany in 2022. Prior to his six-month internship at the German Centre Singapore, he studied for one semester at Universiti Malaya in Kuala Lumpur. In addition to his academic activities, Moritz is also involved in politics and is a member of the Student Council of his department.
What piece of advice would you give to future interns?
To future interns at German Centre Singapore: I would advise you to always approach work with an open mind, seek feedback. Collaborating with colleagues from diverse backgrounds and showing initiative will not only improve your skills but also make your internship experience rewarding and enriching.
Are there any other thoughts you would like to share?
I would like to thank the whole German Centre team and especially my direct supervisors Dominique Herold and Jeypreiya Kuppusamy for this amazing opportunity and their unconditional support in all matters. I always felt very welcomed at my workplace and received valuable input both on personal and professional level. I warmly recommend to do an internship at the German Centre Singapore.
Thank you, Moritz, for your contribution! The German Centres Worldwide wish you all the best for your future.
Similar articles
Meet more people in our network!
The German Centre Beijing and AHK Greater China organized the fourth seminar in the China 30.60 decarbonization series: Circular Economy in China.