Coworking Space and laboratory
Life Science Incubator
What began as a joint idea of the Waldner Group from Wangen, Germany, and German Centre Singapore is now a state-of-the-art and fully equipped coworking laboratory including an operating theatre on 1,000 sqm. What drives the over 30 companies from the life science industry to support such an innovative project?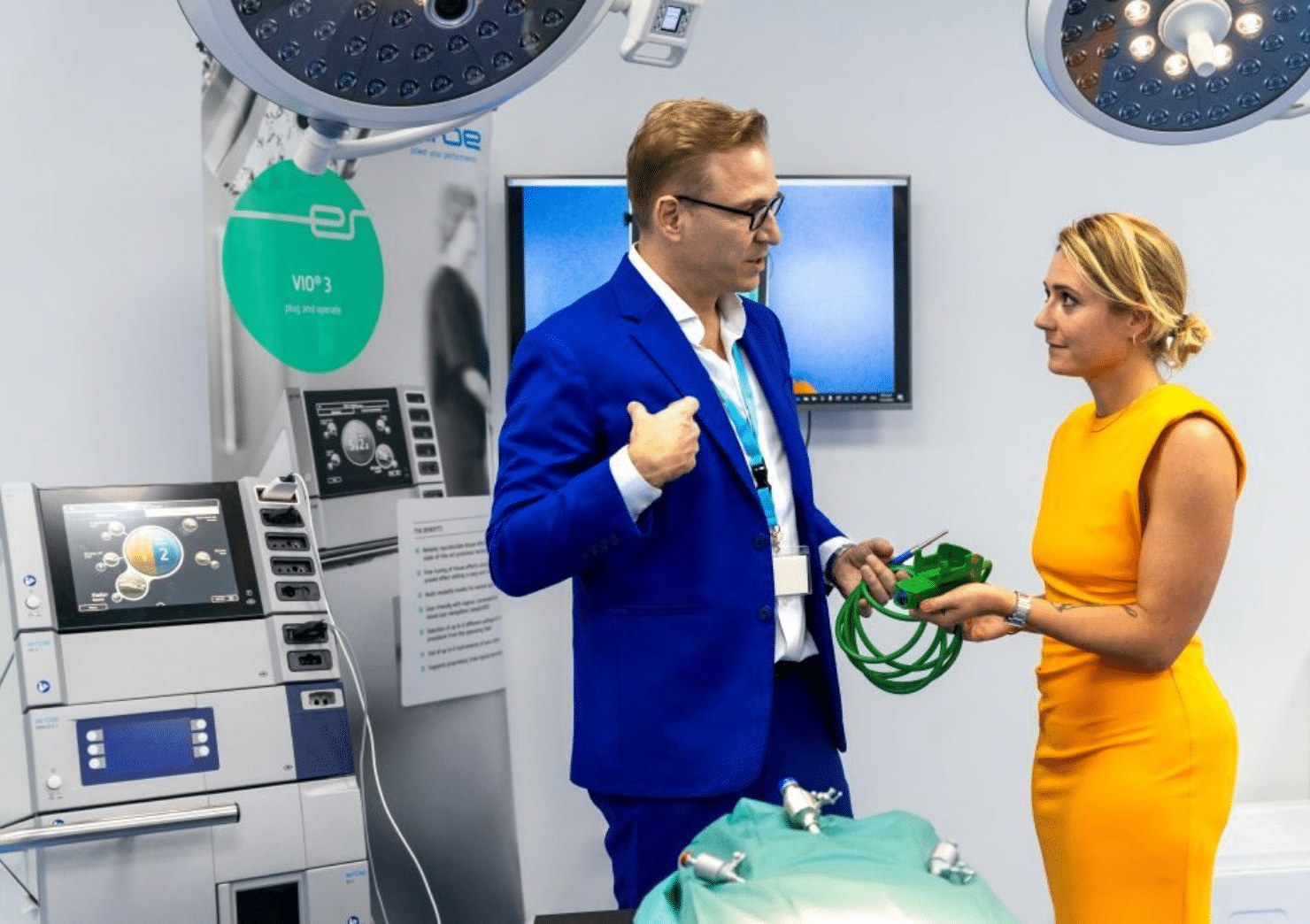 Sharing Economy as a recipe for success
Cooperation as the key to a new distribution channel
Since 2021, anyone entering the lobby of the German Centre Singapore will find the Life Science Incubator, or LSI for short, directly on the ground floor.
At the beginning of the Covid19 pandemic, Dominique Herold, Managing Director of German Centre Singapore, and Maximilian Englisch, Global Vice President of Sales Waldner Group, asked themselves how, in times without trade fairs and the almost complete stop of business trips, companies can test, distribute, adapt and train in the use of their products in new markets. And whether it would be possible for a lab to function according to the sharing economy principle in the same way as coworking spaces do.
The Life Science Incubator is an evolving, agile ecosystem that has attracted 30 companies to date – and it is open to new ideas.
Dominique Herold
Managing Director, German Centre Singapore
Both have activated their networks in the German Centre and beyond, and have further developed the idea with companies in the life sciences sector. The result: a state-of-the-art, fully equipped BSL-2 laboratory with the latest laboratory equipment and a demo operating theatre, where founders, start-ups, scientists, researchers and investors find an excellent environment for their R&D activities. Young and talented start-ups such as AVECRIS, Fisheroo and Drip.ai are booked into the LSI, driving research that could one day change the world.
Real-world conditions for product testing
German Centre as a sales channel for "made in Germany"
The LSI has created a new sales channel for the companies that have contributed their products. At the LSI, they can permanently present their technologies in a real-life showroom, test them and receive valuable feedback from users. Real clinical situations can be simulated in the operating theatre, providing an insight into the entire value and process chain. For companies that are not yet on the market, the LSI is an opportunity to conduct initial market tests and establish networks.
For start-ups, Life Science Incubator is a state-of-the-art coworking lab at the heart of Singapore's Life Science Hub.

For partners, Life Science Incubator is a living showroom where they can showcase their new developments and innovative services for intensive testing.

LSI is here to pave the way for BioTech, MedTech and FoodTech companies to grow in a reliable, agile and fully equipped laboratory.
Paving the Path Abroad
We match. You grow.
Discussing market opportunities and brainstorming ideas is part of the daily routine for the German Centre team. As a business facilitator, our model is based on building and maintaining strong relationships with companies, experts, institutions and authorities, thus promoting companies on their growth path.
Everything under one roof
Life Science Incubator – a "universe for science"
The LSI also offers a wide-ranging mentoring and event programme. The Makerspace and the conference and meeting rooms of the German Centre offer space for training, project work and customer events. Supplemented by the event management offer, companies thus have everything under one roof to implement their ideas and strategies.
German Centre Singapore is home of our first ERBE academy outside of Germany. The German Centre is the perfect place for it: We can use the meeting and training rooms for small and large groups, with or without catering. It is only here at the German Centre that we can get this total package.
Christian O. Erbe
CEO Erbe Elektromedizin
Success Stories
These clients are at home with us