Building relationships at work
Interview with Niamh Madden, Life Science Incubator
Building relationships at work is key for Niamh Madden, then General Manager of the Life Science Incubator in Singapore.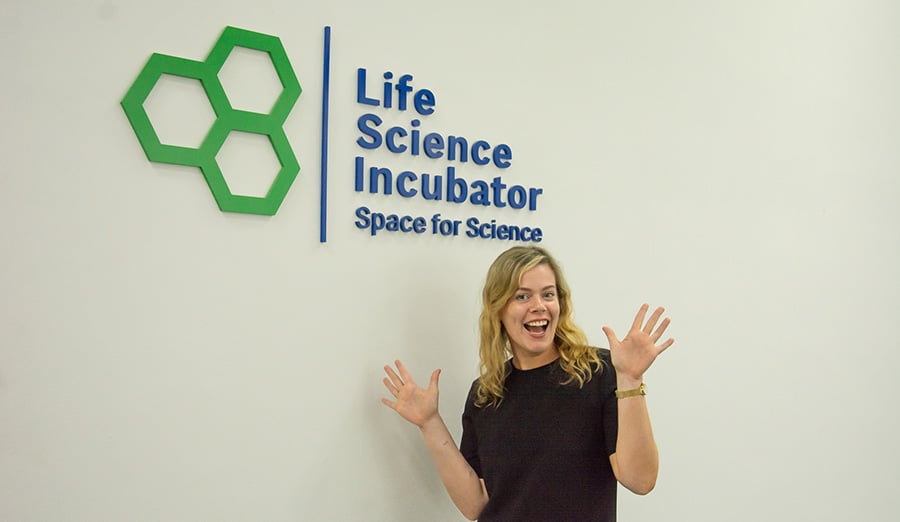 Niamh Madden is a firm believer in the power of networking. We sat together with her and talked about building relationships at work to individually grow and empower change. This interview is part of the #peopleinournetwork series.
Dear Niamh, please tell us what fascinates you about your current job?
Life Science Incubator (LSI) is the first of its kind and unique in Singapore and ASEAN. It is inspiring to work with so many talented and educated people that benefit from LSI's vital facilities for their research and development activities. We have an agnostic approach and are open for all types of companies, developed ones and start-ups. In other words: We are accessible, agile and affordable. It is my great pleasure to accompany and support all the LSI users that work on amazing ideas which may change the world.
Why is German Centre Singapore the perfect location fo Life Science Incubator?
The German Centre is the perfect location in many reasons. With its location in the International Business Park it is only a stone's throw away from Biopolis and two main universities. Moreover, even more is our common alignment when it comes to values and doing business. That is to say, we both strongly focus on supporting companies on their development and growth paths.
Another key point is that the building facilities match perfectly.  It is quite comfortable that LSI users do not have to worry about coworking spaces, meeting and seminar facilities that are provided by the German Centre. Last but not least, the community in the German Centre is very nice! Customers like Erbe Elektromedizin, Plasmatreat or Büchi collaborate with the start-ups working in LSI. After all, we are quite proud that LSI brought a different demographic and new life to German Centre Singapore, which is a nice side effect.
How did the German Centre support you in establishing LSI?
LSI was formed during the Covid19 pandemic and we were challenged with delays and continuous adaptions of our time schedules. In the meantime, the German Centre was very flexible and patient with us. This was especially the case, when we harmonised the opening of LSI with the opening of German Centre Singapore's coworking space. I would like to point out that Dominique Herold, the Managing Director of the German Centre, was strongly involved from the very beginning. She and her team linked us with equipment providers, opened the doors to companies and institutions from the Life Science industry and introduced us to many German Centre customers. This helped us a lot!
About Niamh Madden
Niamh Madden is the former General Manager of the Life Sciene Incubator. After studying at the universities in Dublin and Beijing, the native Irish was initially involved in economic cooperation between Ireland and China before moving to Singapore in 2018. She is intensively involved in supporting start-ups in their development and offers a motivating environment for these. In her free time, her favorite pastimes include travelling, SCUBA diving and cooking and she is the Ladies Captain of the Singapore Gaelic Lions Football Club, Asia's largest club in the Gaelic Athletic Association.
What motivates you to continue even if it is very difficult?
It is the nice community and the relationships that keep us going even though things may become difficult from time to time. Hence, building relationships at work is so valuable. Undeniably, it is very comforting to always have a listening ear right next door!
What is your favourite workplace tradition at the German Centre?
That is undoubtedly the annual fire drill! I do not know any other building that serves beer and hotdogs afterwards!
About Life Science Incubator
Life Science Incubator (LSI) opened its doors in 2021 in German Centre Singapore. It is a state of the art, fully equipped co-working laboratory catering for Biotech, Medtech and Life Science companies. Within 1,000sqm, founders, researchers, start-ups and their investors have access to a Biosafety Level 2 laboratory, including the most modern lab equipment, contributed by companies like Waldner Laboratories, Erbe Elektromedizin or Plasmatreat. It offers a broad event and mentoring program as well as a mockup Operation Theatre and a makerspace for trainings and presentations.
This scientific ecosystem forms a perfect symbiosis with the flexible space solutions and the network of the German Centre, allowing all partners to introduce and present their products and services in a real-life showroom, as a platform for sales and business development in Asia, while getting direct user feedback from the member companies.
Similar Articles
Meet more people in our network
An interview with Nirojan Chandran, who did his dual studies program with a practical component at LBBW and the German Centres.
The Managing Director of AHK Mexico (Camexa) explains how AHK and German Centre support German companies on site.