MedTech Innovation Days 2019
Living Medical Technologies
Two days at German Centre Singapore: industry experts, manufacturers and users met at the MedTech Innovation Days.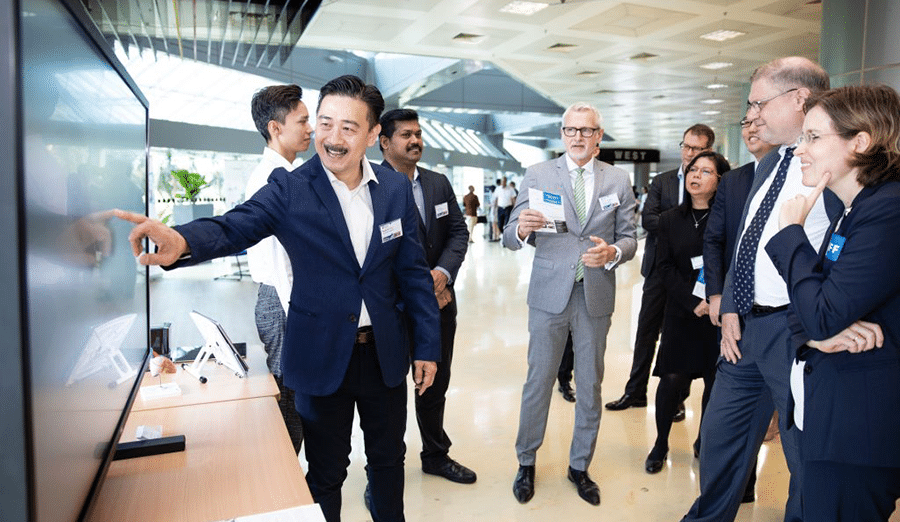 Exhibition and Conference at German Centre Singapore
"Hidden Champions re-inventing medical technologies" – this is what the MedTech Innovation Days were all about. Companies from German SMEs in the region showcased their cutting-edge innovations in the fully booked exhibition area of the German Centre: Cadfem, CMI, Erbe, Evonik, Fresenius, invenio, MA micro automation, Pitzek, Plasmatreat, Volume Graphics, Waldner, Zeiss and ZwickRoell. 35 companies and insti¬tutions in total showcased their expertise on these industry days with its more than 400 visitors.
Best practices in product development and sustainable laboratory design
At the conference, the exhibitors shared their approaches and best practices. The programm covered trending topics, such as smart chirurgical processes, endoscopes and lab equipment, automation and visualization as well as future-driven innovations of polymers, biomaterials and much more. The audience gained valuable insights on how to bring innovative healthcare to market and learnt about the prospering HealthTech start-up scene.
Another highlight of the event were the panel discussions, undoubtedly. TÜV SÜD and its panellists shared approaches to ensure trust in smart healthcare services.,whereas the Sustainable Energy Association of Singapore (SEAS) gathered acknowledged experts for a vivid discussion about sustainable lab design, technology and operations. To enrich the MedTech Innovation Days, Erbe held a nurses' training with acknowledgeable response.
The MedTech Innovation Days 2019 were set into action after the German Centre had initiated a similar event with the Industrie 4.0 Days the year before. Again, the organisers have picked a topic that is on the pulse of time for Singapore's production sector. That is to say because, in Singapore, MedTech companies find the perfect breeding ground for their growth. This is also due to the fact the the Singapore government has identified MedTech as a key sector within the biomedical sciences industry for development.
Platform for SMEs supported by strong partners
The Asian market for medical technology is one of the largest within a sector that is growing steadily anyway. Within Europe, the German market is No. 1. Therefore, it is no coincidence that several German Centre tenant companies are innovators in medical technology and related industries. The MedTech Innovation Days were driven by the industry itself. Clients of the German Centre, mainly SMEs. had wished to have a platform to become more visible to a broader audience.
An idea that found a lot of support, in fact, not only by the German Centre itself. For that reason, the business centre joined forces with several event partners. Among them were Fraunhofer Singapore, JTC Corporation, Singaporean-German Chamber of Industry and Commerce, Messe Düsseldorf, Rödl & Partner, SingEx, TÜV Süd. Besides, the event took place under the auspices of the German Embassy in Singapore.
German Centre Singapore is a hub for MedTech and Life Sciences.
Similar articles
More News and Events
We talked to Andrea Lorenz about her life and career in Hong Kong and Singapore, and got some good insights women in business in the region.
Building relationships at work is key for Niamh Madden, then General Manager of the Life Science Incubator in Singapore.