Dual studies
Interview with Nirojan Chandran
An interview with Nirojan Chandran, who did his dual studies program with a practical component at LBBW and the German Centres.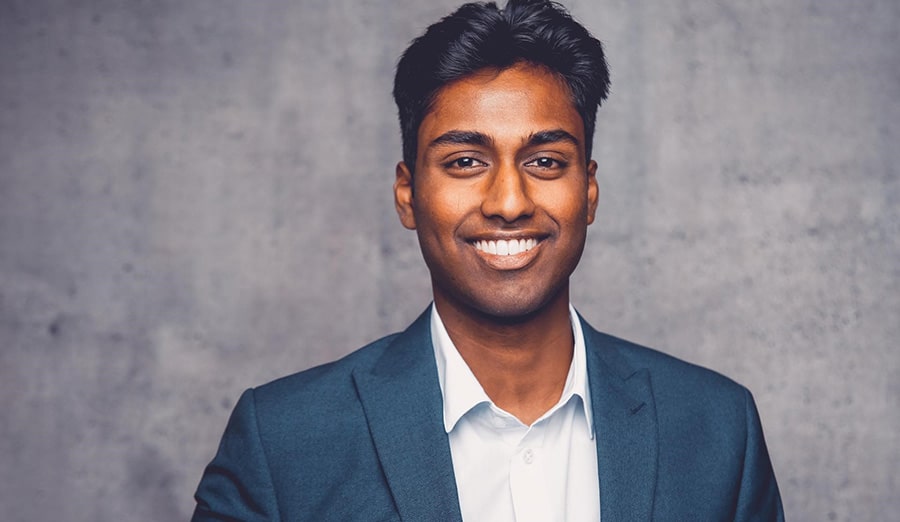 During his dual studies at Landesbank Baden-Württemberg, Niro took the opportunity to get a taste of the German Centres' work. He spent some time with the German Centre team in Stuttgart and completed an internship in Singapore. An interview from the #peopleinournetwork series.
What do you do at LBBW and the German Centres?
Currently, I am pursuing a bachelor's degree in business administration with a major in finance. Working at LBBW gave me the opportunity to do an internship at the German Centres and to get an insight into working for and collaborating with an international team. Thank you for having me during my dual studies!
What inspires you most about the German Centre idea?
In general I find the idea of expanding internationally as a company very exciting. With the German Centre you can easily break into a new market, knowing that one of Germany's biggest banks, LBBW, supports the idea. It also seems very tempting that you're supported by a management-team, which provides you with the know-how and network you need in order to succeed. Regarding my background, I'm inspired by the intercultural competence of the German Centres.
Could you imagine to work for LBBW's international departments after finishing you dual studies?
Absolutely! LBBW has many interesting departments doing international business, Not only from the headquaters in Stuttgart but also in 16 different countries. The perpectives that are offered by LBBW and my own interest would be a good match.
About Nirojan Chandran
Born and raised in Germany with parents from Sri Lanka, Niro grew up between two completely different cultures. This inspired him to learn different languages and taught him to be open-minded towards other cultures. Furthermore, this outlook combined with the belief in the power of education led him to volunteer at Integreater e.V. in Mannheim. Together with his team, he visits children and young adults in schools, in order to offer an insight into opportunities available after school, especially for young people with immigration background.
Apart from that, travelling is one of his favourite activities, whenever time and budget allow it.
Which is the most exciting country you would like to travel to – and why?
That's an interesting question, however I don't have a specific country in mind. I have been to some places in Asia and would love to explore more countries in that part of the world. They are very different from the European lifestyle and offer a lot of new things to learn. Also the food there is very delicious.
What is your favourite place after a long working or studying day?
I really like to meet my friends at the Neckar or the Rhine and let the evening fade away.
Thank you, Niro! We wish you all the best for your future.
Ähnliche Beiträge
Treffen Sie mehr Menschen aus unserem Netzwerk!
An interview with the managing partner of Erbe Elektromedizin, a leading company in medical technology.
We spoke to the General Manager of Viessmann Singapore about intercultural cooperation and a successful growth strategy.